Who is online?
In total there are
5
users online :: 1 Registered, 0 Hidden and 4 Guests :: 2 Bots
Admin
Most users ever online was
111
on Thu 12 Dec 2013, 2:28 am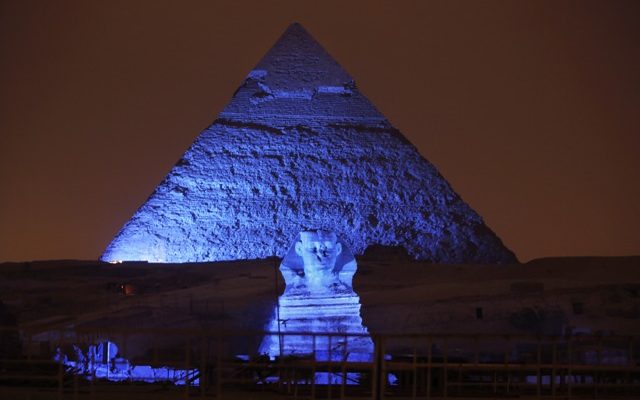 4,400-year-old tomb discovered outside Cairo
https://worldisraelnews.com/4400-year-old-tomb-discovered-outside-cairo/?
February 4, 2018
4,400-year-old tomb discovered outside CairoThe historical site of the Giza Pyramids. (AP/Amr Nabil)
A 4,400-year-old tomb near Giza was discovered in Egypt. It likely belonged to a woman close to ancient Egyptian royals.
By: AP
Archaeologists in Egypt have discovered a 4,400-year-old tomb near the country's famed pyramids at the Giza plateau just outside Cairo, the Antiquities Ministry said Saturday.
The tomb was found in a wider area of Giza's western necropolis, which is known to be home to tombs from the Old Kingdom.
It likely belonged to a woman known as Hetpet, who archaeologists believe was close to ancient Egyptian royals of the 5th Dynasty.
The tomb, unveiled to the media on Saturday, is made of mud brick and includes wall paintings in good condition depicting Hetpet observing different hunting and fishing scenes.
Other scenes also depict a monkey — in pharaonic times, monkeys were commonly kept as domestic animals — picking fruit. Similar scenes have been found in other tombs belonging to the later 12th dynasty, according to the ministry's statement. Another scene shows a monkey dancing before an orchestra.
According to the ministry, the archaeological mission behind the discovery started excavation work last October. Archaeologists have been making discoveries near the site since the 19th century, and Mostafa al-Waziri, who led the mission, believes there is still more to be found.
"This is a very promising area. We expect to find more," Al-Waziri told reporters at the site. "We have removed between 250-300 cubic meters of layers of earth to find the tomb."
"What we see above the earth's surface in Egypt doesn't exceed 40 percent of what the core holds," he added.
Al-Waziri believes Hetpet had another tomb in Giza's western necropolis and said that excavation work is underway to find that one too.
Much to learn about ancient Egypt
Hetpet is a previously known figure in Egyptian antiquity though her mummy has not been discovered yet. Fragments of artefacts belonging to Hetpet were found in the same area back in 1909, and were moved to a museum in Berlin at the time, Antiquities Minister Khaled al-Anani said Saturday, speaking at the site to reporters and Western diplomats.
Despite all the discoveries already made about ancient Egypt, experts say they hope to find many more treasures still buried under the vast desert, in part thanks to modern technology.
The area of the latest discovery is close to a new museum under construction that will house some of Egypt's most unique and precious artifacts, including many belonging to the famed King Tutankhamun.
The first phase of Grand Egyptian museum is expected to be opened later this year while the grand opening is planned for 2022.
In January, Egypt placed the ancient statue of one of its most famous pharaohs, Ramses II at the museum's atrium, which will include 43 massive statues.
Throughout 2017, the Antiquities Ministry made a string of discoveries across Egypt — including some in the southern city Luxor known for its spectacular temples and tombs spanning different dynasties of ancient Egyptian history.
NY Times: Israel pounds ISIS in Egypt through 'secret alliance' with Cairo
February 3, 2018
NY Times: Israel pounds ISIS in Egypt through 'secret alliance' with CairoA burned truck in Northern Sinai, Egypt. (AP Photo/Tarek Samy
After Egypt failed to stop jihadists in the Northern Sinai region responsible for killing hundreds of soldiers and police, Israel addressed the threat, according to a recent NY Times report.
By: World Israel News Staff
For over two years, unmarked Israeli drones, jets, and helicopters mounted a covert air campaign, completing over 100 airstrikes inside Egyptian territory in an operation approved by Egyptian President Abdel Fattah el-Sisi, reported the NY Times on Saturday.
The joint Israeli-Egyptian operation reveals a hidden dimension in a "fraught relationship." Over the course of 70 years, the two nations have gone from fierce enemies in three wars to secret allies in a covert battle against jihadists.
While the Israeli assistance has given Cairo a leg up in its battle to tamp down the threat from Islamic terror groups, Israel has also fortified the security of its border and strengthened the stability of its neighbor to the south.
Spokesmen for the Israeli and Egyptian militaries refused to comment on the operation, but seven current or former British and American officials involved in Middle East policy confirmed the Israeli airstrikes in Egypt. According to these sources, Israel's air campaign "has played a decisive role in enabling the Egyptian armed forces to gain an upper hand against the militants," leading some to speculate that senior Israeli officials now perceive Egypt as dependent on the Jewish state to reign in jihadists in Egyptian territory.
MORE  https://worldisraelnews.com/ny-times-israel-pounds-isis-egypt-secret-alliance-cairo/?
Admin




Posts

: 51695


Join date

: 2008-10-25


Age

: 73


Location

: Wales UK




---
Permissions in this forum:
You
cannot
reply to topics in this forum