Who is online?
In total there are
18
users online :: 1 Registered, 0 Hidden and 17 Guests :: 2 Bots
Admin
Most users ever online was
115
on Wed 03 Jul 2019, 3:20 pm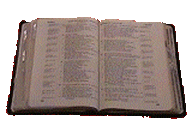 Cyril Smith of Revelation TV
Compiled these
In Christ Scriptures
God's Word is the same yesterday, today and forever. His Word is alive.
In Christ I am forgiven……. Jer 31v-34…."They will all know me, from the least of them to the greatest ," declares the Lord, "for I will forgive their iniquity and remember their sins no more."
In Christ I am a child of God…………Romans 8 v14…..For those who are led by the Spirit of God are the children of God.
In Christ I am redeemed from the hand of the enemy….. Palm107v2 ….Let the redeemed of the Lord say so, whom He has redeemed from the hands of the enemy.
In Christ I am saved by grace through faith…..Ephesians 2v8, 9…..For it is by grace you have been saved through faith, and this is not from yourselves, it is the gift of God, not by works, so that no one can boast.
In Christ I am justified……Romans 5v1…….Therefore, having been justified through faith, we have peace with God, through our Lord Jesus Christ.
In Christ I am sanctified….1 Cor. 6v11…..Sinners were what some of you were, but you were washed, you were sanctified, you were justified in the name of the Lord Jesus Christ and by the Spirit of our God.
In Christ I am a new creation….2 Cor 5v17….Therefore if anyone is in Christ he is a new creation. Old things have passed away. Behold ! the new is here.
In Christ I am the partaker of His Divine nature…2 Peter 1v 4….. Who has given us His very great and precious promises, so that through them, you may participate in the Divine Nature, having escaped the corruption in the world caused by evil desires.
In Christ I am redeemed from the curse of the law…Galatians 3v13….Christ has redeemed us from the curse of the law, having become a curse for us., For it is written "cursed is everyone who is hung on a tree."
Page 2.
In Christ I am delivered form the powers of darkness….Col 1v13,14….For He has rescued us from the dominion of darkness and brought us into the kingdom of the Son He loves, in whom we have redemption, the forgiveness of sins.
In Christ I am led by the Spirit of God….Romans 8v14….For those who are led by the Spirit of God are the children of God.
In Christ I am a son of God….Rom 8v15……The Spirit you received did not make you slaves to fear again. You received the Spirit of adoption to sons ship and by Him we cry out 'Abba Father".
In Christ I am kept in safety wherever I go…Psalm 91v11…..For He will command His angels concerning you, to guard you in all your ways.
In Christ I am getting all my needs met by Jesus …. Philippians 4v19…..And my God will meet all your needs according to the riches of His glory in Christ Jesus.
In Christ I am casting all my cares on Jesus …..1Peter5v7….Cast all your cares on Him because He cares for you.
In Christ I am strong in the Lord…….. Ephesians 6v10,11…. Be strong in the Lord and in His mighty power. Put on the full armour of God, so that you can take your stand against the devil's schemes.
In Christ I am doing all things through Him….Philippians 4v13….I can do all things through Christ who strengthens me.
In Christ I am an heir of God and a joint heir with Jesus….Romans 8v16, 17. …
The Spirit himself testifies with our spirit that we are God's children. Now if we are children, then we are heirs-heirs of God and joint heirs with Christ..
In Christ I am heir to the blessings of Abraham…..Galatians 3v14….He redeemed us in order that the blessing given to Abraham might come to the Gentiles, through Christ Jesus, so that by faith we might receive the promise of the Spirit.
Page 3
In Christ I am observing and doing the Lord's commandments…..
Deuteronomy 28v1,2….If you fully obey the Lord your God and carefully follow all His commands I give you today, the Lord your God will set you high above all the nations of the earth.
In Christ I am blessed in the work of my hands….Deuteronomy 28v12….The Lord will open the heavens, the storehouse of His bounty, to send rain on your land in season and to bless all the work of your hands.
In Christ I am an heir of eternal life….1John 5v11,12…..God has given use eternal life and this life is His Son. Whoever has the Son has life; whoever does not have the Son of God does not have life.
In Christ I am blessed with all spiritual things….Ephesians 1v3…..Praise be to the God and Father of our Lord Jesus Christ who has blessed us in the heavenly realms with every spiritual blessing in Christ.
In Christ I am healed by His stripes…..1 Peter2v24….He Himself bore our sins in His body on the cross, so that we might die to sins and live for righteousness. "by His wounds we are healed".
In Christ I am exercising my authority over the enemy….Luke 10v19… I have given you the authority to trample on snakes and scorpions and to overcome all the power of the enemy; nothing will harm you.
In Christ I am above only not below… Deuteronomy 28v13….The Lord will make you the head and not the tail. If you pay attention to the commands of the Lord your God that I give you this day and carefully follow them, you will always be at the top, never at the bottom.
In Christ I am more than a conqueror….Romans 8v37….. In all these things we are more than conquerors through Him who loves us.
In Christ I am establishing God's Word here on earth….Mark 16v15….He said to them "Go into all the world and preach the gospel to all creation. Whoever believes and is baptised will be saved, but whoever does not believe will be condemned."
Page 4 
In Christ I am an overcomer….Revelation 12v11….They triumphed over him by the blood of the Lamb and by the word of their testimony.
In Christ I am daily overcoming the enemy….1 John 4v4…. You dear children are from God and have overcome them, because the one who is in you is greater than the one who is in the world.
In Christ I am not moved by what I see…2Cor4v18….So we fix our eyes not on what is seen, but what is unseen since what is seen is temporary, but what is unseen is eternal.
In Christ I am walking by faith ….2Cor 5v7….For we live by faith and not by sight.
In Christ I am casting down vain imaginations….2 Cor10v4….The weapons we fight with are not the weapons of the world. On the contrary they have divine power to demolish strongholds.
In Christ I am bringing every thought into captivity…2 Cor 10v5…We demolish arguments and every pretension that sets itself up against the knowledge of God and we take captive every thought to make it obedient to Christ.
In Christ I am a labourer with God…..1Cor 3v9 and v6… For we are co workers in God's service: you are God's field, God's building. …v6…I planted the seed, Apollos watered it, but God has been making it grow.
In Christ I am the righteousness of God in Christ…2.Cor5v21…God made Him who had no sin, to be sin for us, so that in Him we might become the righteousness of God.
In Christ I am an imitator of Christ…..Ephesians 5v1,2…Follow God's example therefore as dearly beloved children and walk in the way of love, just as Christ loved us and gave Himself up for us, as a fragrant offering and sacrifice to God.
In Christ I am the light of the world… Math 5v14….You are the light of the world. A town built on a hill cannot be hidden.
In Christ I am blessing the Lord at all times….Psalm 34v1…I will extol the Lord at all times; His praise shall continually be on my lips.
In Christ I am being transformed by the renewing of my mind….Rom12v2…
Do not conform to the pattern of this world, but be transformed by the renewing of your mind. Then you will be able to test and approve what God's will is- his good, pleasing and perfect will. For us… Amen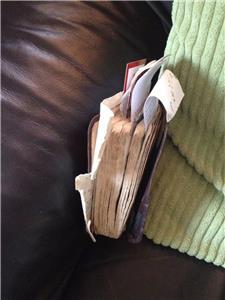 One of my Bibles. 
I posted from my phone, unfortunately it is very basic and I am only able to post on whatever is on first page so I had to be on my laptop to bring this page up tlo post picture from my phone. 
Wanting to share this which came up in my memories over at Facebook. I copied it to my notepad.
IN THE FRONT OF my Bible I have favourite verses written, I call these MY Testimony Scriptures. So sharing here. 
JESUS said also promises In His Name
John 14:6 "I am the way and the truth and the life. No one comes to the Father except through me.
John 14:12 The promise of the works I do, shall you do also in my name that the Father be glorified in the Son.
Romans 8:17 I'm a joint heir with Christ all power in heaven is given me to cast out spirits.
John 12:12-14 Ask anything in my name and I will do it.
Romans 8:31 If Christ is for me who can be against me!
Romans 8:28 He works all things together for my good always.
Phillipians 4:13 I can do All things not some, through Christ who strengthens me.
Proverbs 9:10 The Fear (reverence) of the Lord is the beginning of wisdom and the knowledge of the Holy is understanding.
Proverbs 3:5;6 Leaan not to your own understanding in all your ways acknowledge Him and he will direct your paths.
Hebrews 13:5 I will never leave you nor forsake you.
Psalm 139:8 If I make my bed in the depths, YOU ARE THERE
Psalm 94:18 When I said I'm slipping! your love supported me
John 14:2 In my Fathers House are many mansions, I go to prepare a place for YOU! ....ME!!
All blessings Honour , Praise and Glory be unto our God (The Christ Jesus/Yeshua) Forever.
HIS WORD IS TRUTH! I have FAITH, CONFIDENCE and a DESTINY- HALLELUYA!

---
Permissions in this forum:
You
cannot
reply to topics in this forum