Who is online?
In total there are
8
users online :: 1 Registered, 0 Hidden and 7 Guests :: 1 Bot
Admin
Most users ever online was
115
on Wed 3 Jul 2019 - 15:20
Page 17 of 17 •
1 ... 10 ... 15, 16, 17
(9) For we are God's fellow workers; you are God's field, you are God's building. (10) According to the grace of God which was given to me, as a wise master builder I have laid the foundation, and another builds on it. But let each one take heed how he builds on it. 
New King James Version   Change your email Bible version
If God places us within an office in the church—as an elder or a deacon—it must be looked upon as a blessing that is a responsibility, not a reward! It is given for God's purposes. Paul even had his office as apostle because it was given to him. It is implied that all the powers to perform it were also given. He used them to lay the foundation.
Everybody else is the same way. The important thing is that each one of us must use our gifts to build. Paul says, "Be careful how you build." The foundation that was laid is Jesus Christ. When we begin to expand on it, it consists of the apostles and the prophets as well—the things that they wrote and the examples that they set. Everybody is to build on the same foundation! God gives everybody the gifts to enable them to do so.
To some, God gives gifts to be apostles; to others, He gives gifts to be an evangelist, pastor, teacher, or whatever. They are given, though, and every time God gives an office, He gives all that is needed for the person to fulfill that office—including overcoming sin.
The Bible consistently teaches that an office is not a place from which to exercise power, but a position from which to exercise service. The authority is certainly there, since God gives it. He always gives the authority to go with the office, but having it means that the elder or deacon must also have the right perspective on how to use the office God has given him. The office is given, not earned.
— John W. Ritenbaugh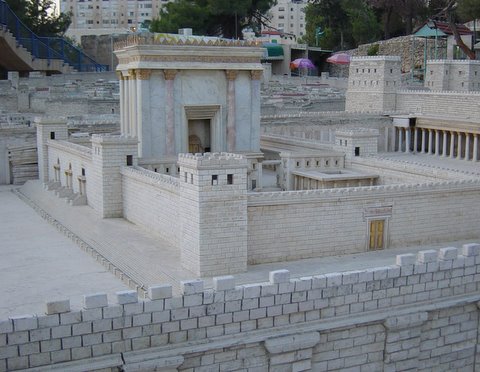 Revelation 11:2
(2) But leave out the court which is outside the temple, and do not measure it, for it has been given to the Gentiles. And they will tread the holy city underfoot for forty-two months. 
New King James Version   Change your email Bible version
Revelation mentions three different periods that are all the same—1,260 days, 3½ years, or forty-two months. If we do the math, they all come out within a day or so of one another. If we use 30-day months (as many prophecies do), they come out exactly 3½ years to the day. The forty-two months figure is found here and in one other place, Revelation 13:1-5, where the Beast rising out of the sea is the subject:
He was given a mouth speaking great things and blasphemies, and he was given authority to continue forty-two months. (Revelation 13:5)
These time periods appear in various places in Revelation—but particularly in chapters 11-13. In Revelation 11:2, the Two Witnesses prophesy for 1,260 days. In Revelation 12:6, the woman goes into her place in the wilderness, and she is fed there 1,260 days. Then, at the end of the chapter, the woman is given two wings of a great eagle, and she flies into the wilderness where she is nourished for "a time and times and half a time" (Revelation 12:14), which is 3½ years. A "time" is a year, and "times" is thus two years. "Half a time," then, is half a year. So, added together, they are 3½ years. The woman is protected from the presence of the serpent for 3½ years.
The book of Daniel also mentions various time periods of similar lengths. It can be quite difficult to sort out, which is how many who study prophecy become confused about the timing of events.
The prophecy of Revelation 13:5 seems to be dual. As we understand it, the Beast power down through history was given forty-two months—or, using the day-for-a-year principle, 1,260 years—of sway over primarily the lands of Europe. This sway was seen in the power of the Catholic Church and the Holy Roman Empire during that time. But the time period will likely be dual, that is, iy will apply to a time in the past, the type, and to a time in the future, the antitype. We see in Revelation 11:2-3 that this same period of time is when the Gentiles—the nations—will have rule over the city of Jerusalem. So, at the end, there will be a period of a literal 1,260 days (3½ years, not 1,260 years) in which the Beast will have sway.
This is also mirrored in Revelation 12, which shows a period of 1,260 days, which can be interpreted as the 1,260 years in which the church fled into the wilderness, that is, God hid its existence from the visible church by keeping it alive in remote areas. Then, at the end of the chapter, there is a period of "a time and times and half a time" (or, literally 3½ years) in which the end-time church is protected from the depradations of Satan. So we have mirrored occurrences of a literal time of 3½ years (1,260 days or forty-two months) and a typical time of 1,260 years.
Here in Revelation 11:2, the context calls for a literal 3½ years. Recall that it is an inset chapter, that is, one that interrupts the flow of the rest of Revelation to concentrate on an important matter that needs to be explained. That flow of story has now reached the point of the 3½ years of the Great Tribulation and the Day of the Lord, culminating with the return of Jesus Christ to bring about the end of this present, satanic world.
There is no need to become confused about these forty-two months or 1,260 days in verses 2 and 3 because they are indicating the same period. As far as we know from the church's long study of prophecy, they are essentially the same as the 3½ years of the Tribulation and the Day of the Lord, ending with Christ's return.
— Richard T. Ritenbaugh
The Fire of Revival
 
When Solomon had finished praying, fire came down from heaven...The priests could not enter into the house of the Lord because the glory of the Lord filled the Lord's house. 2 Chronicles 7:1-2 NASB

Peter Cartwright heard about the camp meeting taking place in Cane Ridge, Kentucky in 1801. Later, he attended himself. There, his life was transformed.

In his autobiography, he described the overwhelming presence of the Holy Spirit. During those meetings, "the mighty power of God was displayed in a very extraordinary manner." It seemed clear that the Spirit was in control: "Seemingly unexpected" things regularly took place.

Camp meetings went on for weeks, lasting night and day. People from all denominations gathered, hungry for God. "It was not unusual" for up to seven preachers (representing many churches) to address the crowds at the same time from different stands that had been built.

Thousands gave their lives to Jesus and "hundreds fell prostrate under the mighty power of God." This power was so great that people from miles around could hear the loud shouts. Today, we serve the same God who brought these revivals to the frontier.

On this Pentecost Sunday, make a commitment to approach God with this same spirit. Seek to be filled with the Spirit. Don't allow doubt or the world to keep you from experiencing the fire of the Spirit. Separate yourself from daily routine. Dedicate yourself to seek Him. Worship Him. Don't limit Him. Believe that He can do anything!

Prayer
Father, pour Your Spirit on me in a fresh way. Open my eyes to see new truths. I worship and praise You! In Jesus' name. Amen. 

Extended Reading

2 CHRONICLES 7
Genesis 27:39-41
(39) Then Isaac his father answered and said to him: 
" Behold, your dwelling shall be of the fatness of the earth, 
And of the dew of heaven from above. (40) By your sword you shall live,
And you shall serve your brother; 
And it shall come to pass, when you become restless, 
That you shall break his yoke from your neck." (41) So Esau hated Jacob because of the blessing with which his father blessed him, and Esau said in his heart, "The days of mourning for my father are at hand; then I will kill my brother Jacob." 
New King James Version   Change your email Bible version
Once Isaac had given his - really God's - blessing, there was nothing left for Esau. The blessing was an "all or nothing" addition to the inheritance; it could not be portioned between Isaac's two sons. In reality, the subsequent "blessing" Esau receives is tantamount to a curse. In the New King James Version, it reads as if Isaac blesses Esau in Genesis 27:39-40, yet it is not a blessing but a prophecy.
As shown here, the two uses of "of" in verse 39 have been mistranslated; in this context, the Hebrew word implies, not "belonging to," but "from" or "away from." On this verse, the Keil and Delitzsch Commentary on the Old Testament observes, "By a play upon the words Isaac uses the same expression as in v. 28, 'from the fat fields of the earth, and from the dew,' but in the opposite sense, min being partitive [imparting] there, and privative [depriving] here, 'from = away from.'" Thus, Isaac prophesies that Esau's descendants would live in an infertile, arid area.
One consequence of this is prophesied in verse 40: There will be continual strife between the "have," Jacob, and the "have-not," Esau; they would engage in a constant, internecine quarrel over "the fatness of the earth, and of the dew of heaven." More often than not, Jacob would be dominant - until Esau would rebel in frustration and anger. Isaac predicts that they will frequently come to blows, and occasionally, Esau's descendants will enjoy the upper hand for a time.
Esau's utterly human reaction upon hearing Isaac's words is consistent with what we know of his personality: "So Esau hated Jacob because of the blessing with which his father blessed him, and Esau said in his heart, "The days of mourning for my father are at hand; then I will kill my brother Jacob" (Genesis 27:41). Too late, he realized the value of the blessing, and now his entire attention was focused in hatred against his brother. Hebrews 12:15-16 describes his attitude toward Jacob as a "root of bitterness," a profound and deep-set animosity that ultimately corrupts and defiles one who maintains it.
This reveals the mindset of Esau and his descendants, the Edomites. Everything that should have been theirs was now Jacob's, and they will fight until the bitter end of days to get it back! Yet God says it is not to be. His prophecy in the "blessing" allows Esau only occasional supremacy. Since Jacob's seed possessed both the birthright and the blessing, they would normally prevail and ultimately have the ascendancy.
The birthright made Jacob the recipient of a double portion of the inheritance, and the blessing was a gift of God by which the patriarch passed on the promised family blessings. These blessings included the patriarchy - "Be master over your brethren" (Genesis 27:29) - which was now Jacob's! This meant that, upon Isaac's death, the leadership position in Abraham's family passed not to the elder, Esau, but to the younger, Jacob. Esau was left to form his own house, but without the power, position, and wealth inherent within the birthright and the blessing.
In these prophecies, the Bible shows that dominant family traits are passed down to succeeding generations. Therefore, even today, Israelites generally think and behave much like their father Jacob, while Edomites still retain the attitudes and drives of Esau. Though not every Israelite or Edomite will imitate his ancestor's personality to the letter, these traits will surface as national characteristics, allowing perceptive observers to identify their origins and fit them into Bible prophecy.
For Jacob's thefts of the birthright and blessing, Esau hated his brother enough to begin to plot his death! This burning hatred has been passed on from generation to generation ever since that time, for approximately 3,700 years. This, then, provides us with a basic understanding of the contentious relationship between these two peoples.
— Richard T. Ritenbaugh
James 2:11-13
(11) For He who said, "Do not commit adultery," also said, "Do not murder."Now if you do not commit adultery, but you do murder, you have become a transgressor of the law. (12) So speak and so do as those who will be judged by the law of liberty. (13) For judgment is without mercy to the one who has shown no mercy. Mercy triumphs over judgment. 
New King James Version   Change your email Bible version
James highlights the importance of mercy in keeping the spirit of the law. He exhorts us to speak and act as those who are to be judged by "a law of liberty," so that he sets no limit to the range of the law—meaning it covers all aspects of life.
In James 4:11, he warns us against speaking against the law or judging the law, that is, to assume the place of judge instead of "doer of the law." Our efforts should not be in judging someone else and whether or not they are keeping the law. However, we should be looking inwardly to determine whether or not we are doing what is required—not only in the letter of the law but especially in its spirit.
James would not have used such language unless he had a profound conviction of the perfection of the law as a rule of life for the saints redeemed from its condemnation. Thus, we can call it the perfect law of liberty—the royal law. Many Christians do not look at the law of God as being perfect. They pick and choose which parts of the law they will obey, ones they feel most comfortable with, and they ignore the rest. Yet the apostle says in James 2:10 that if we break one, we break them all.
All sin is lawlessness, as I John 3:4 states, and the sum of all lawkeeping is love of God and love of the brethren (Matthew 22:36-40; Romans 13:8-10), so the summary of the old law is echoed and endorsed. And it is continued—because Christ did not come to destroy the law but to magnify it (Matthew 5:17-18; Isaiah 42:21).
— Martin G. Collins
1 Thessalonians 5:17 Pray without ceasing. 
The Bible tell us to pray without ceasing 1 Thessalonians 5:17 This don't mean you stay in your bedroom on your knees all day,  apparently the Greek word for "without ceasing" is adialeiptos, which doesn't mean nonstop,  but actually means constantly recurring. 
We remember the story of the woman who kept nagging the judge continually, and he eventually answered her plea. 
There are other times we just pray and leave it there. I tend to make a habit of talking to God throughout the day on various things. 
Even at a supermarket, in my mind, help me remember Lord what I need o get, I forgotten my list. 
There are endless things we can speak to God over. 
It isn't all about what he can do for us, but also a time we can just tell him we love him, chatting over how happy he has made us, praising and thanking him.
Just as I ramble my thoughts here, it is okay to do the same talking with God he loves to hear his child speaking to Him.
Elaine
https://www.washingtontimes.com/news/2015/nov/29/power-of-prayer-can-one-truly-pray-without-ceasing/
Can one truly 'pray without ceasing
By Barry C. Black - - Sunday, November 29, 2015
When I was young, my mother gave my siblings and me 5 cents for each Bible verse we memorized. This motivated us to look for the "low-hanging fruit" of short verses, finding in 1 Thessalonians 5 a treasure trove. First Thessalonians 5:16 states, "Rejoice evermore." Verse 18 says, "Always give thanks for this is God's will for you." Verse 19 tells us, "Quench not the Spirit." Verse 20 enjoins, "Despise not prophesying." Verse 22 admonishes, "Avoid the appearance of evil."
I loved these terse, money-making verses. First Thessalonians 5:17, however, not only provided me with 5 cents but with a question. The text says, "Pray without ceasing." Three simple words, but what could they possibly mean? I pondered the question: "Is it possible to pray nonstop?"
I was puzzled by this verse, "Pray without ceasing." Did Jesus pray nonstop? The Bible says (Luke 2) that he was a carpenter for at least 18 years before being baptized by John in the Jordan River. Surely this work prevented Jesus him from continuous prayer, yet this Bible verse challenges us to pray continuously — to bathe our years, months, days and moments with prayer: "Pray without ceasing."
As I grew and matured spiritually, I began to believe that it is indeed possible to pray nonstop. It's possible because we can cultivate a spirit that is habitually devotional, keeping our hearts attuned to the transcendent. The Greek word for "without ceasing" in 1 Thessalonian 5:17 is adialeiptos, which doesn't mean nonstop — but actually means constantly recurring. In other words, we can punctuate our moments with intervals of recurring prayer.
Ralph Waldo Emerson, the American essayist, brings some clarification on this theme in his sermon "Pray Without Ceasing." Emerson made the following observation: "It is not only when we audibly and in form, address our petitions to the Deity that we pray. We pray without ceasing. Every secret wish is a prayer. Every house is a church; the corner of every street is a closet of devotion" (Thevalueofsparrows.com2014/02/02/).
To illustrate further, while in college, I fell in love with the woman I would eventually marry. That romantic experience helped me better frame this biblical command to pray continuously, punctuating one's life with prayer.
Deuteronomy 32:4
(4) He is the Rock, His work is perfect;
For all His ways are justice, 
A God of truth and without injustice; 
Righteous and upright is He.

  Revelation 19:11
(11) Now I saw heaven opened, and behold, a white horse. And He who sat on him was called Faithful and True, and in righteousness He judges and makes war. 
New King James Version   Change Bible versions

Our God is a God of truth. He is the Rock, the immovable Foundation of this way of life. The Hebrew word for "Rock" indicates firmness, stability, and faithfulness. What would it be like to worship a God whose "truth" changed from time to time? Could such a God be trusted? The Greek word for "True" in Revelation 19:11 means much the same thing, but it carries the additional sense of "real" or "genuine." There is nothing—absolutely nothing—false, deceitful, evasive, or variable in His character, His Word, or His example.

What does this mean practically? Who are the most important people in a community, state, or nation? Not the doctors, lawyers, teachers, entertainers, military personnel, or businessmen. Considering how much God's Word concentrates on the preachers and kings, God indicates these two win in a landslide.

It might be difficult to say which of these two is more important, but a slight edge seems to go to the ministry. Christ came first as a rabbi and Savior, teaching and living the values that form the foundation of God's way. At His return, He will come to administer them. This is why God devotes so much space to these two in the Bible. The preacher must teach and live the values, and the king must live and administer them.

Without true values, civilization will not continue long but descend into revolution and anarchy. God's Word, His doctrine, is true and faithful just as He is. It is a reflection of His nature and character. Any society or family built on it will prosper and become great in godly terms. Jesus' first coming left mankind without excuse regarding the eternal question, "What is truth?"

Jesus says in John 14:6, "I am the way, the truth, and the life. No one comes to the Father except through Me." Many can say, "I have told you the truth," but Jesus not only told it, He embodied it. He put truth into a visible, concrete form so all who want to see it can.

What credibility that gives to one's teaching! A person can teach us a mathematical, grammatical, spelling, geographical, or historical truth, and what his character is like matters little. But if a person teaches moral truth, his example, character, conduct, and attitudes are all-important. Who wants to be lectured on purity by an adulterer or on honesty by a liar and thief?

Jesus lived what He taught with total purity and never a shadow of turning. He was absolutely stable, firm, and reliable, the real, genuine representative of eternal life, the way of life that He will establish on earth at His return.

— John W. Ritenbaugh
Page 17 of 17 •
1 ... 10 ... 15, 16, 17
---
Permissions in this forum:
You
cannot
reply to topics in this forum